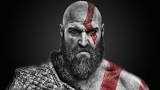 At last year's Playstation Experience Event, Corey Barlog went into detail about the influence of various Norse-inspired stories, artefacts and Myths on God of War's story and characters.
God of War fans were excited when God of War 2 Director, Corey Barlog returned to helm the latest entry in the series. While all the past games used Greek Mythology as the foundation for the game, God of War will be the first instalment in the franchise based on Norse Mythology.
In this video interview, Mr. Barlog provides a tour of the God of War Booth at last year's PEX event.  We get a peek at various artefacts and insight into the game's characters. The themes of the game are also addressed. It's clear that family dynamics — particularly between Kratos and Atreus — will be explored in the game's story mode. Mr. Barlog is very candid about the influence of his own life journey on the character arc of the game's protagonist. Look out for brief snippets of in-game footage scattered throughout the video.
Check out the featurette below and let us know if you are excited to play the game when it launches on 20th April 2018.
God of War is a PS4 exclusive.